AB IPBox TWO 2x DVB-S2X UHD 4K Android HDR10 Wifi Bluetooth APPS OTT-IPTV
Regular price

Sale price

£149.00

Unit price

per
Vendor : AB
Product Type : 4K Recievers
Sku : AB IPBOX TWO
Hurry! Only
3
units left in stock!
Description
AB IPBox TWO 2x DVB-S2X UHD 4K Android HDR10 Wifi Bluetooth APPS OTT-IPTV
AB IPBox TWO (2x DVB-S2X tuner) is a receiver with UHD (4K) resolution and ANDROID operating system .
In addition to the DVB part, which is used to watch the programs of your satellite TV provider, you can also use the Android interface to watch content through your favorite applications such as YouTube, Antik, etc. The Android operating system offers a wider range of uses for the satellite receiver than other operating systems.
Watch live satellite broadcasts (DVB) or OTT-IPTV broadcasts from Internet sources (ANDROID).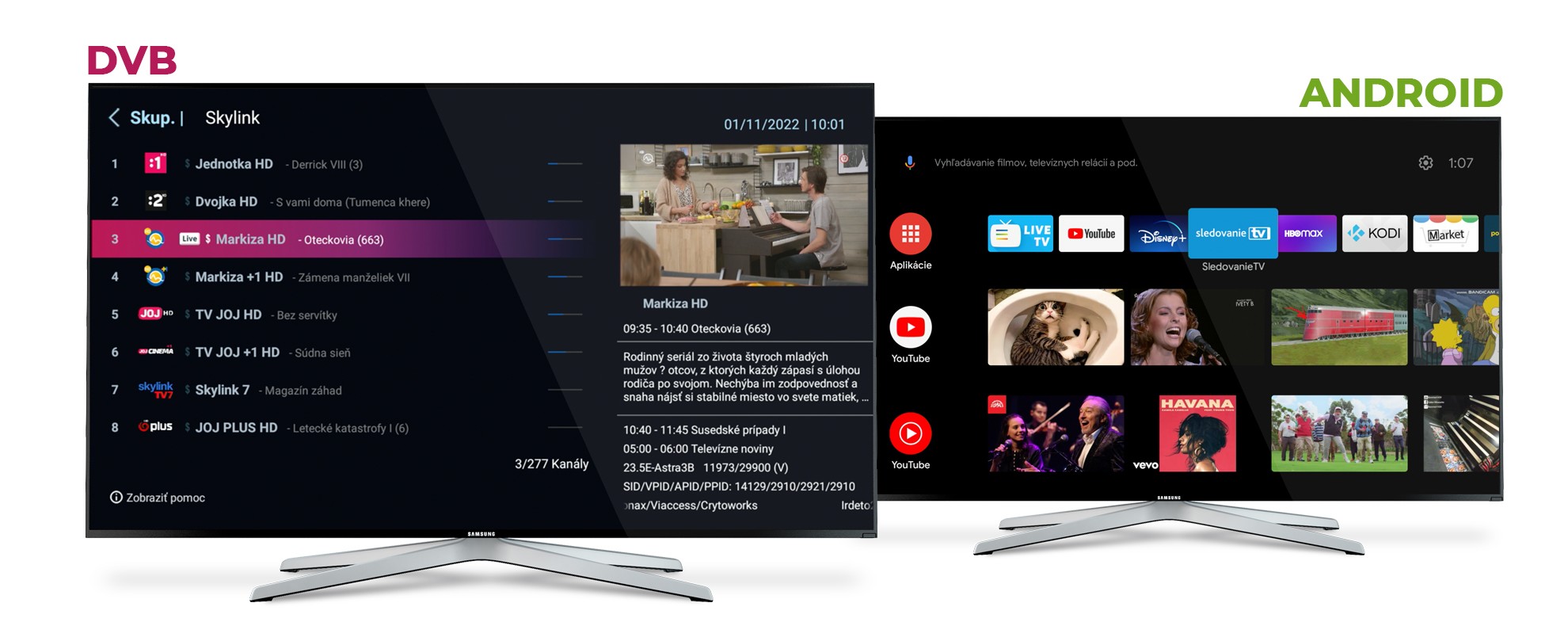 Beautiful 4K images are a matter of course, as are HDR10 and HLG image standards. A quad-core processor with 2GByte DDR4 SDRAM memory and 16GB eMMC internal memory will take care of the performance. The receiver contains a built-in 2x DVB-S2X tuner, a built-in WiFi Dual band 2.4GHz / 5GHz and Bluetooth 4.0.

4K Resolution (UHD)
2x DVB-S2X tuner
Processor: QUAD CORE
Flash: 16GB eMMC
RAM: 2GB DDR4
OS: Android 8.0 Oreo
1x card reader
TFT LCD display
1x HDMI
1x microSD card slot (possible recording to microSD card)
1x USB 3.0 + 1x USB 2.0
Built-in WiFi
Built-in Bluetooth
Video Format: 4: 3, 16: 9, Letter Box, Pan & Scan
Video Resolution: 10bit, Up to 3840 x 2160 @ 60fps, HDR10 Support
Ethernet RJ45: 10/100 Mbps
S/PDIF optical digital audio output
Video Format: 4: 3 Letter Box, 4: 3 Pan Scan, 16: 9
Video Decoding: ITU-T H.265 / HEVC & H.264, ISO / IEC 13818-2 MPEG-2, AVS & AVS +, VP6, VP8, VP9
Audio Decoding: MPEG I&II, MP3, Dolby Digital Plus, AAC-LC, HE-AAC V1 / V2
Audio Mode: Stereo / Mono / Left / Right / Exchange
Dimensions: 170mm X 100mm X 46mm
On the front panel  there is an on / off button that signals whether the receiver is on, off or in stand-by mode, a TFT LCD display with graphical display of various information and 2x microphone for voice commands.
On the rear panel  there are 2x built-in satellite tuner DVB-S2X, 1x slot for card reader, 1x USB 3.0, 1x USB 2.0., S / PDIF optical digital audio output, HDMI, Ethernet RJ45, DC 12V connector for external source and power button on.
On the side of the receiver you will find a microSD card slot that you can use to record broadcasts or play files.
You can also save recordings on an external USB HDD. However, recording to a MicroSD card is a more elegant solution, as it fully replaces the functions of the external HDD and mainly eliminates the unwanted sounds of standard external HDDs.
Calculation of microSD card capacity utilization:
- on a 32GB microSD card you will store approx. 13 hours of recordings
- on a 64GB microSD card you will store approx. 25 hours of recordings
- on a 128GB microSD card you will store approx. 50 hours of recordings
* The data is approximate depending on the bitrate of the program you recorded from, because each program has a different bitrate.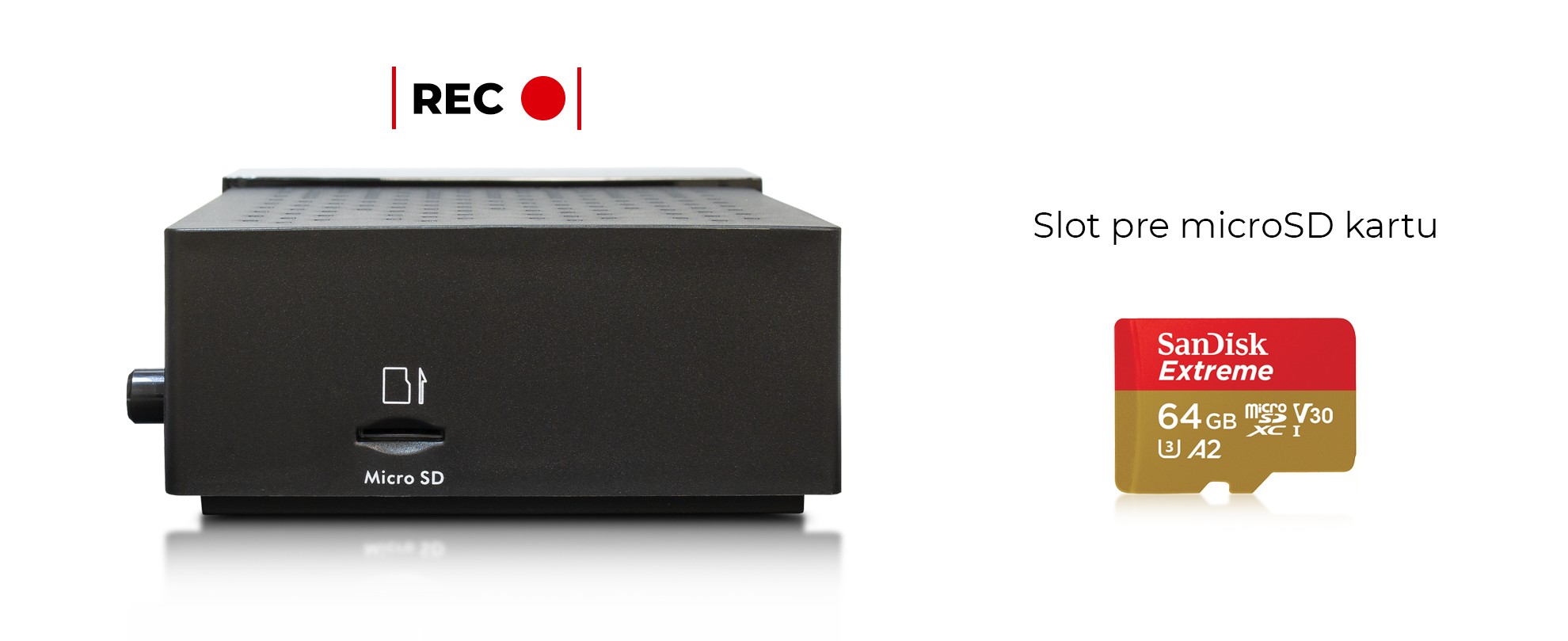 The receiver can simultaneously record any two programs (without transponder restrictions) and the third can watch (with the transponder restrictions of the programs you are recording) or record one program and the others at any time without transponder restrictions.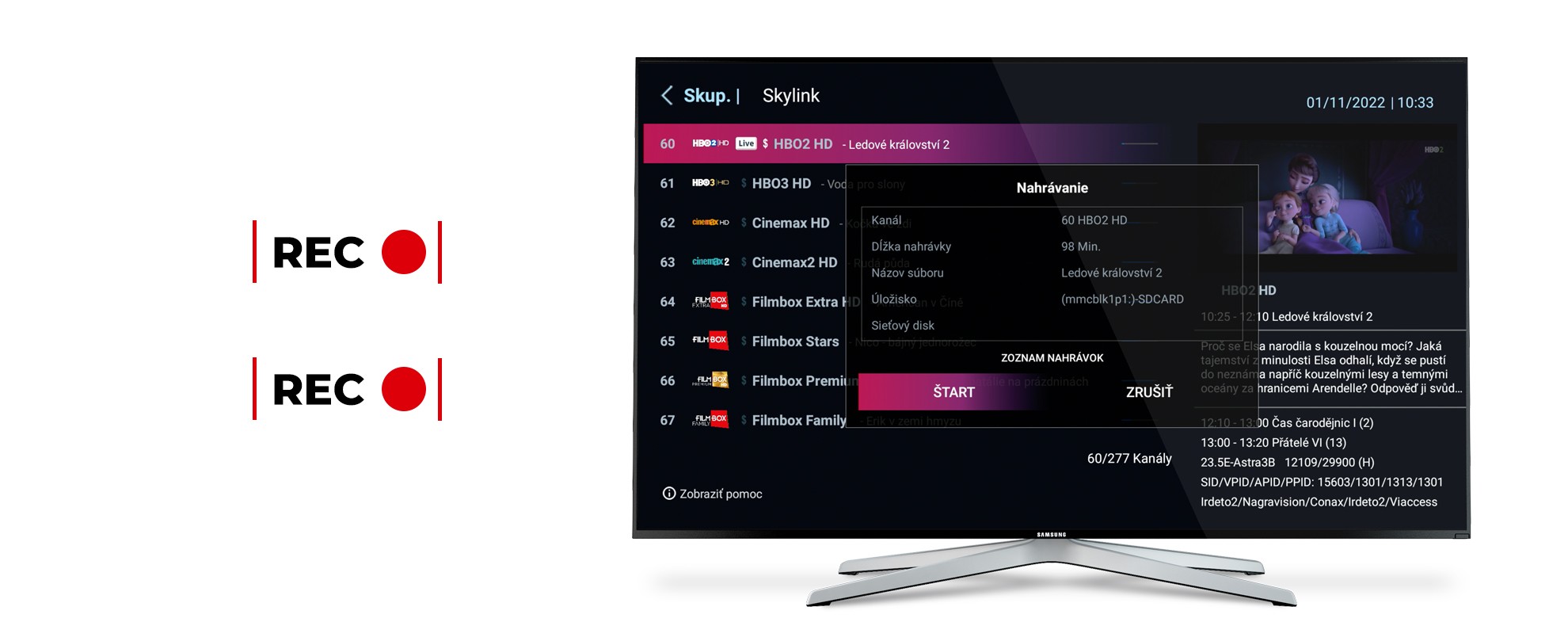 The Bluetooth remote control  contains all the necessary buttons that are logically arranged.
Here you will find, for example, the buttons:
- switching the TV on and off
- direct access to the DVB section (LIVE TV) for watching live broadcasts via satellite
- virtual mouse for convenient control
- direct access to applications
- voice assistant with microphone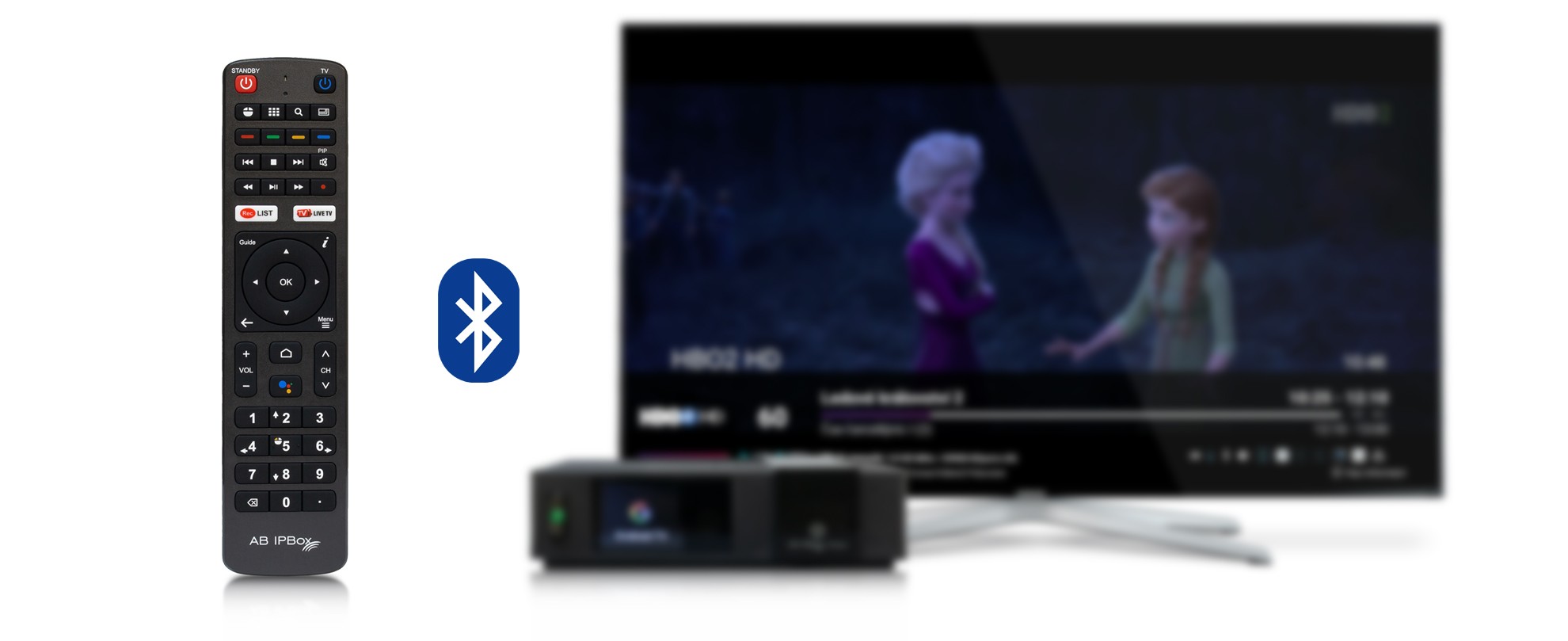 Specification
Technical specification
Operation system
System Resources
| | |
| --- | --- |
| CPU | ARM Cortex A53, Quad core 64bit |
| GPU | High-performance multi-core Mali T720 |
| Storage Memory | 16GB eMMC 5.0 |
| System Memory | 2 GByte, DDR4 SDRAM |
MPEG Transport Stream A/V Decoding
Transport Stream
ITU-T H.265/HEVC & H.264, ISO/IEC 13818-2 MPEG-2
AVS&AVS+, VP6, VP8, VP9
Profile Level
ITU-T H.265 Main 10 Profile@L5.1 high-tier
MPEG-2 MP@HL
Input Rate
Max. 160Mbit/s (H.265)
Video Format
4:3, 16:9, Letter Box, Pan& Scan
Video Resolution
10bit, Up to 3840 x 2160@ 60fps, HDR10 Support, HLG
Audio Decoding
MPEG I& II,MP3,Dolby Digital Plus,AAC-LC,HE-AAC V1/V2
Audio Mode
Stereo/M ono/Left/Right/Exchange
Rear Panel
Power Switch
Push/Pull Type
DC Power Jack
12Vdc / 2A
Smart card slot
1 smart card on rear
Tuner 1
DVB-S2X
Tuner 2
DVB-S2X
Smart Card
1 x
RJ-45 Connector
10/100Mbps
HDM I Connector
Version 2.0a, HDCP 2.2, HDCP1.4
SPDIF
Optical
USB3.0 X 1
USB2.0 X 1
USB3.0 and 2.0 Host Interface
USB Memory Stick&HDD, HUB Support
FAT, NTFS Support
5Vdc, 500mA Max.
Side Panel
On board
| | |
| --- | --- |
| Bluetooth Internal Antenna | Yes. 4.0 + EDR |
| Wifi Antenna Internal Antenna | IEEE 802. 11b/g/n/ac, 2.4GHz/5GHz Dual band(2T/2R) |
Tuner 1 DVB-S2X
Input Connector
F-Type Female(Si-Labs SI2166) Support S2X
Frequency Range
950M Hz to 2150M Hz
Signal Level
-25 to -70dBm
LNB Power & Polarisation
Vertical : +13.5V ± 0.5V Max 4500mA
22KHz Tone
Horizontal : +18.5V ± 0.5V Max 500mA
Frequency : 22KHz ± 4KHz, 0.6Vp-±p0.2Vp-p
Diseqc Control
Version 1.0, 1.2, USALS Compatible
Demodulation
QPSK & 8PSK
Input Symbol Rate
DVB-S : 1 ~ 55M bps / DVB-S2 : 1 ~ 45Mbps
Tuner 2 DVB-S2X
Input Connector
F-Type Female(Si-Labs SI2166) Support S2X
Frequency Range
950M Hz to 2150M Hz
Signal Level
-25 to -70dBm
LNB Power & Polarisation
Vertical : +13.5V ± 0.5V Max 4500mA
22KHz Tone
Horizontal : +18.5V ± 0.5V Max 500mA
Frequency : 22KHz ± 4KHz, 0.6Vp-±p0.2Vp-p
Diseqc Control
Version 1.0, 1.2, USALS Compatible
Demodulation
QPSK & 8PSK
Input Symbol Rate
DVB-S : 1 ~ 55M bps / DVB-S2 : 1 ~ 45Mbps
Front Panel
| | |
| --- | --- |
| TFT LCD | 1.77 inch TFT LCD |
| Power LED | Red/Green Dual Color light emitting diode |
| Buttons | 1 x Power Button |
| Microphone | 2 x Microphones Hole |
Power Supply
| | |
| --- | --- |
| Input Voltage | AC 90 ~ 250V, 50/60HZ |
| Output Voltage | 12V / 2A |
| Type | External AC to DC Adaptor |
| Power Consumption(Watt) |  Stand-by Mode : Under 0.5W |
Physical Dimension
| | |
| --- | --- |
| Size(WXDXH) | 170mm X 100mm X 46mm |
| Net Weight | 0.7 Kg |
| Operating Temperature | 0 ~ 45 °C |
| Storage Temperature | -10 ~ 70 ℃ |